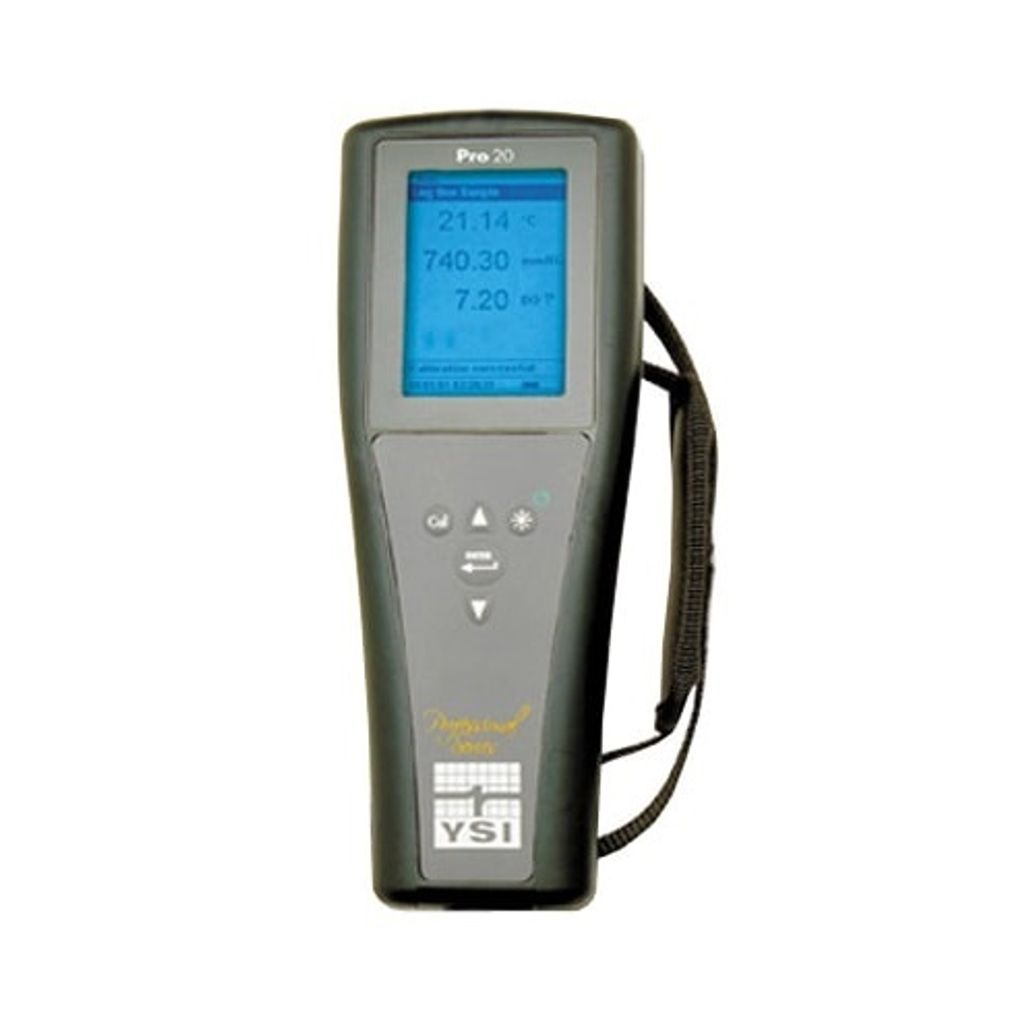 YSI Pro20 Dissolved Oxygen Meter Rugged, reliable DO meter
*PRICE UPON REQUEST, PLEASE CONTACT US FOR PRICE OR QUOTATION THANK YOU*
Dissolved Oxygen (% saturation)

Range: 0 to 500% air saturation
Accuracy: up to ±2% of the reading

Dissolved Oxygen (mg/L)

Range: 0 to 50 mg/L
Accuracy: up to ±2% of the reading

Temperature

Range: -5 to 55°C
Accuracy: ± 0.3°C

Barometer

Range: 400 to 999.9 mmHg
Accuracy: ±5 mm Hg

Internal barometer for highest accuracy
Choose Polarographic or Galvanic field sensors or lab BOD
Seven kits available as options
One Touch Cal calibrates within 3 seconds with the push of a button
Stores 50 data sets
IP-67, impact-resistant, waterproof case
The YSI Pro20 Dissolved Oxygen Meter provides everything needed in a handheld dissolved oxygen meter. It is a rugged, reliable instrument that is easy to operate while featuring user-replaceable sensors and cables as well as the convenient One Touch Cal feature which makes the Pro20 extremely user friendly.
The Pro20 is a true field instrument. Meeting IP-67 specifications while using military spec connectors and a rubber over-molded case, the YSI Pro20 Dissolved Oxygen Meter is designed for the toughest conditions.
Choose from 7 Pro20 kits. Kits include everything from lab to field (or both) along with DO probe choices. Available sensors are EPA approved for wastewater compliance reporting of BOD, CBOD, and DO.
Readings are shown on a graphic, backlit display. The YSI Pro20 Dissolved Oxygen Meter also records and stores up to 50 data sets. Dissolved oxygen readings can be either percent saturation (with a range from 0 to 500%) or mg/L (with a range of 0 to 50mg/L). Accuracies of up to ±2% are reached by incorporating an internal barometer. Fast response times with the Polarographic or Galvanic sensor allows you to complete your sampling routine quickly. The long life of the Polarographic sensor saves time and money and reduces your overall cost. The Galvanic sensor enables you to start sampling immediately without a warm-up period. Either sensor you choose for the field will give you accurate, quality data.
The YSI Pro20 Dissolved Oxygen Meter does not include the cable and sensor which must be purchased separately.
---