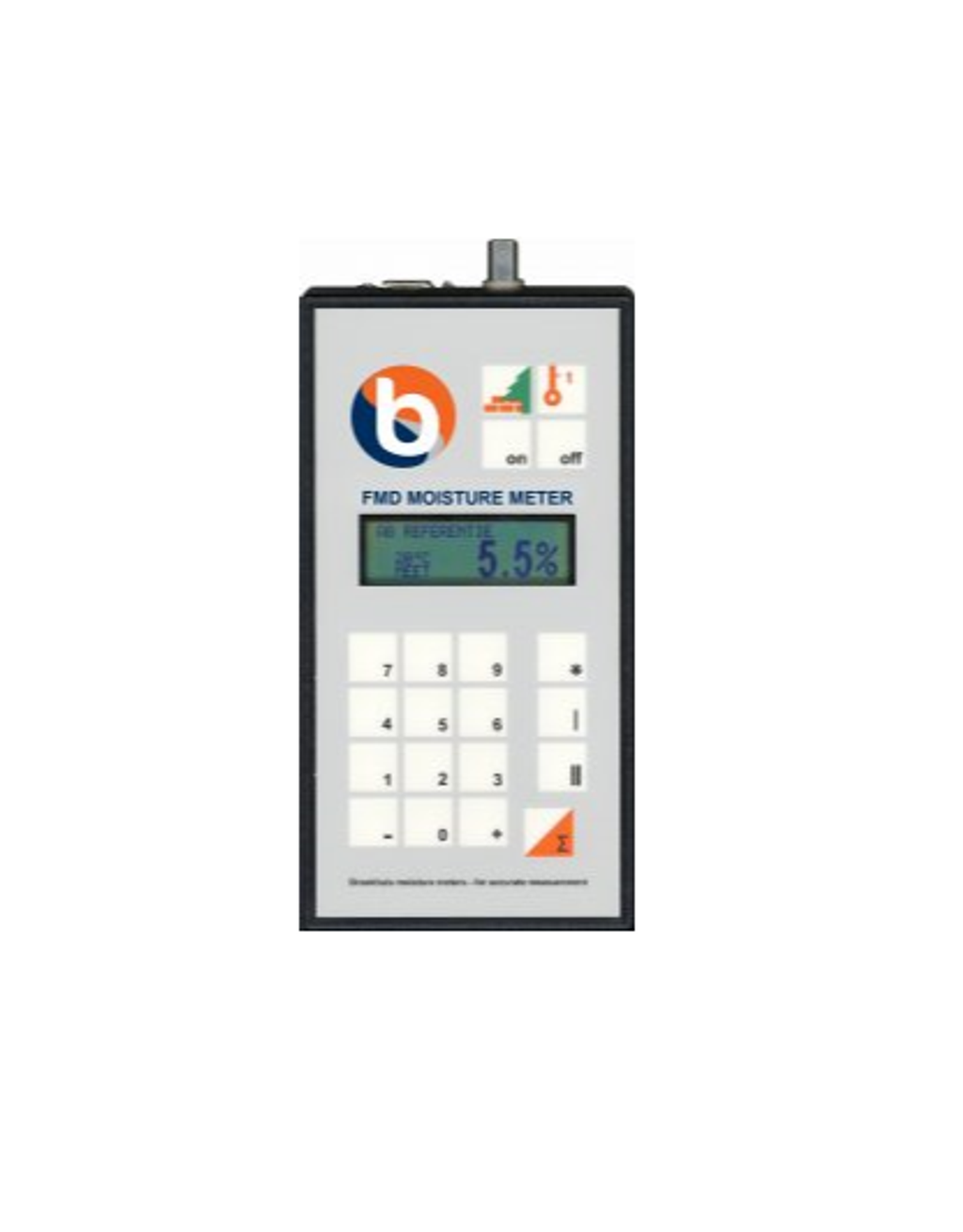 BrookHuis Handheld Moisture Meter FMD6
The most important characteristics of the handheld moisture meters manufactured by Brookhuis:
Reproducible measuring results thanks to the application of special measuring electronics.

Calibrated with many different wood species and construction materials, geared to the properties of the materials to be measured (software).

The possibility of providing the moisture meters with new calibration lines so that they remain up-to-date (updates).

Simple operation (thought-out design).
As a result of these characteristic features, the handheld moisture meters are known and used world-wide in the wood and construction industry.
Accessories & Spare Parts available. (Excluded)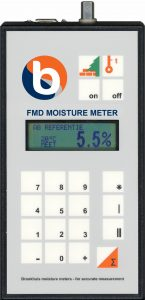 Unique features are the available calibration lines of wood species and building materials as well as the function to add user calibration lines.
The FMD6 is the perfect instrument for the professional who wants to measure, store and register moisture measurements of various wood species and construction materials, for the benefit of quality control.
The FMD6 moisture meter is approved by the FMPA (MPA, Otto Graph Institut) for measuring the moisture content in glue laminated wood products
FMD6 measures the moisture content with a probe which is placed in or onto the material to be measured.
The FMD6 has a memory for measuring reports. Each report includes the data of the measured material as well as a statistical survey and a reliability interval. Stored values can be printed or processed with a personal computer using the FMD-Print program.
FMD6 is the fully model of the well-known FMD and offers interesting new features as:
Wood species including botanical names

Updating new calibration lines through e-mail

Minimum and maximum moisture content can be set for quick selection

Improved operation

Extended memory for 2000 readings

An audible alarm

USB connection possible

Traceable and theft protection by programming vital user information such as company or user name
General
Brookhuis reference calibration line
AS/NZS 1080.1 reference calibration line
FMPA, MPA approved moisture meter for construction timber
Wood calibration lines per species (approx. 500 calibration lines)
Wood calibration lines per group (4 group for wood)
Calibration lines for construction materials (19 calibration lines)
Programmable calibration lines (approx. 450 calibration lines)
Temperature correction for wood from -40°C to 90°C (-4°F to 194°F) in steps of – 1°C (1°F)
Language (Dutch, English, German, French, Italian and Swedish, other languages possible)
Report selection and project number
Technical Specifications
Resistance measurement
Measuring range 5~99% (for wood)
Measuring range 0~99% (for construction materials)
Accuracy 0.2% (on reference material)
Resolution 0.1%|
Clear graphical display with backlight
Statistical processing per measuring such as average MC, standard deviation and reliabilty interval
Memory for 75 reports / 2000 values
Connection for temperature sensor
RS 232 serial interface (USB optional)
Working temperature 0~50°C (32~122°F)
Adjustable automatic switchoff
Battery check
4×1,5 volt Alkaline (AA) batteries Dimensions 190x100x34mm
Weight 370 gram (incl. Battery)
Product Versions:
| | | |
| --- | --- | --- |
| Product | 111.805 | 111.806 |
| FMD in instrument case | √ | √ |
| Batteries | √ | √ |
| User manual | √ | √ |
| Measuring Moisture Content manual | √ | √ |
| CD-ROM "FMD-Print" with connection cable | √ | √ |
| Hand probe | √ | – |
| Hammer probe | – | √ |
| Universal probe holder | – | – |
| 4 needle probe 1,5mm | – | – |
| Measuring cable | √ | √ |
| Insulated pins | – | 4 |
| Non-insulated pins | 10 | – |
| Wrench | √ | √ |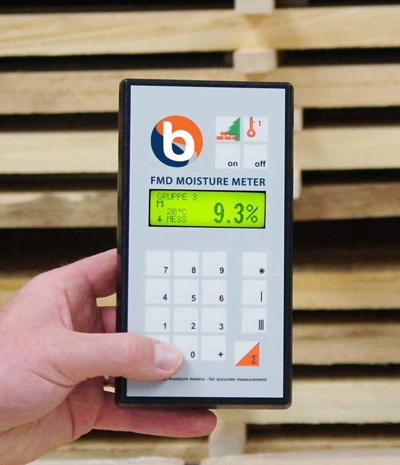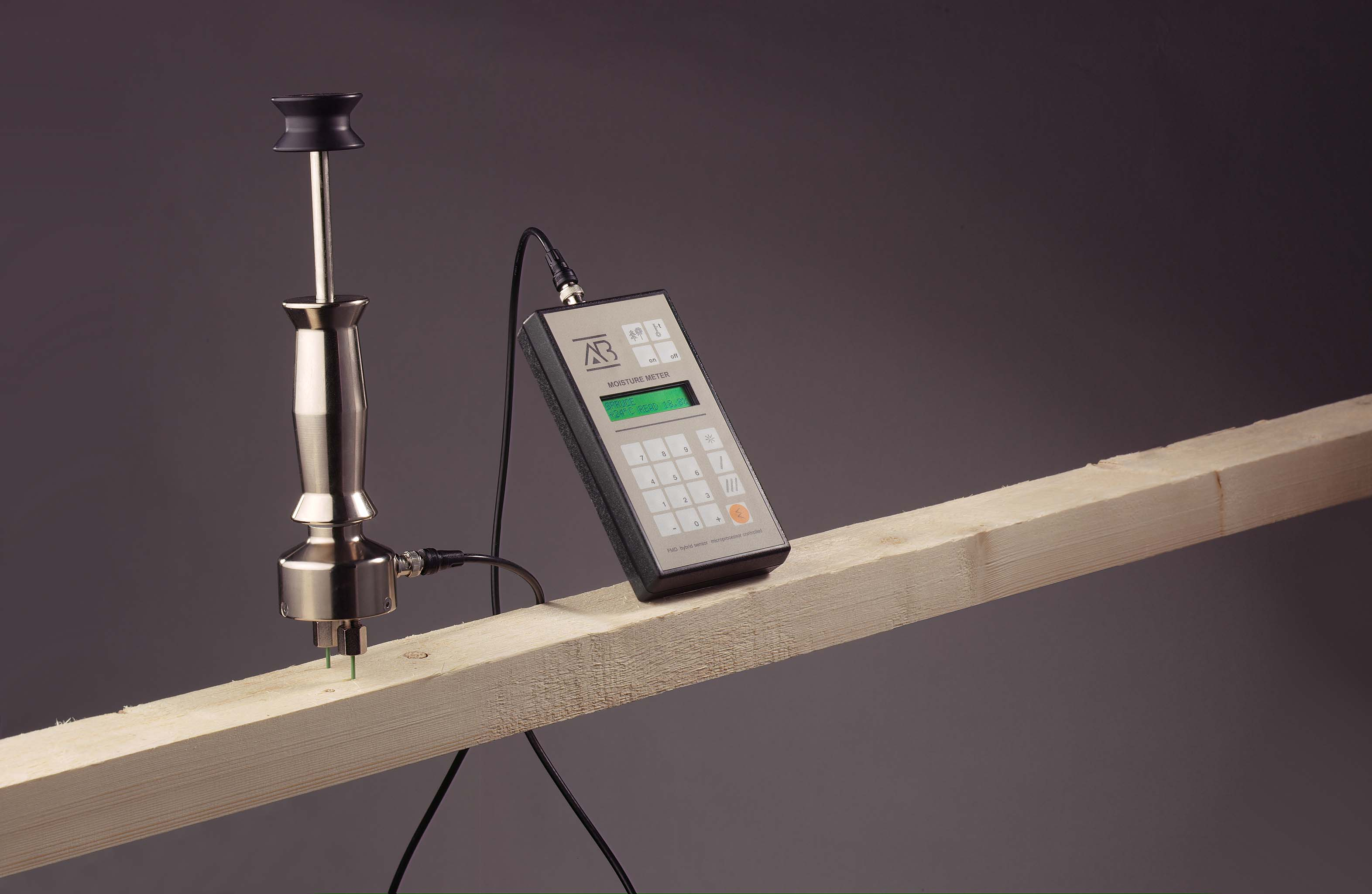 Customer comments
| Author/Date | Rating | Comment |
| --- | --- | --- |
---