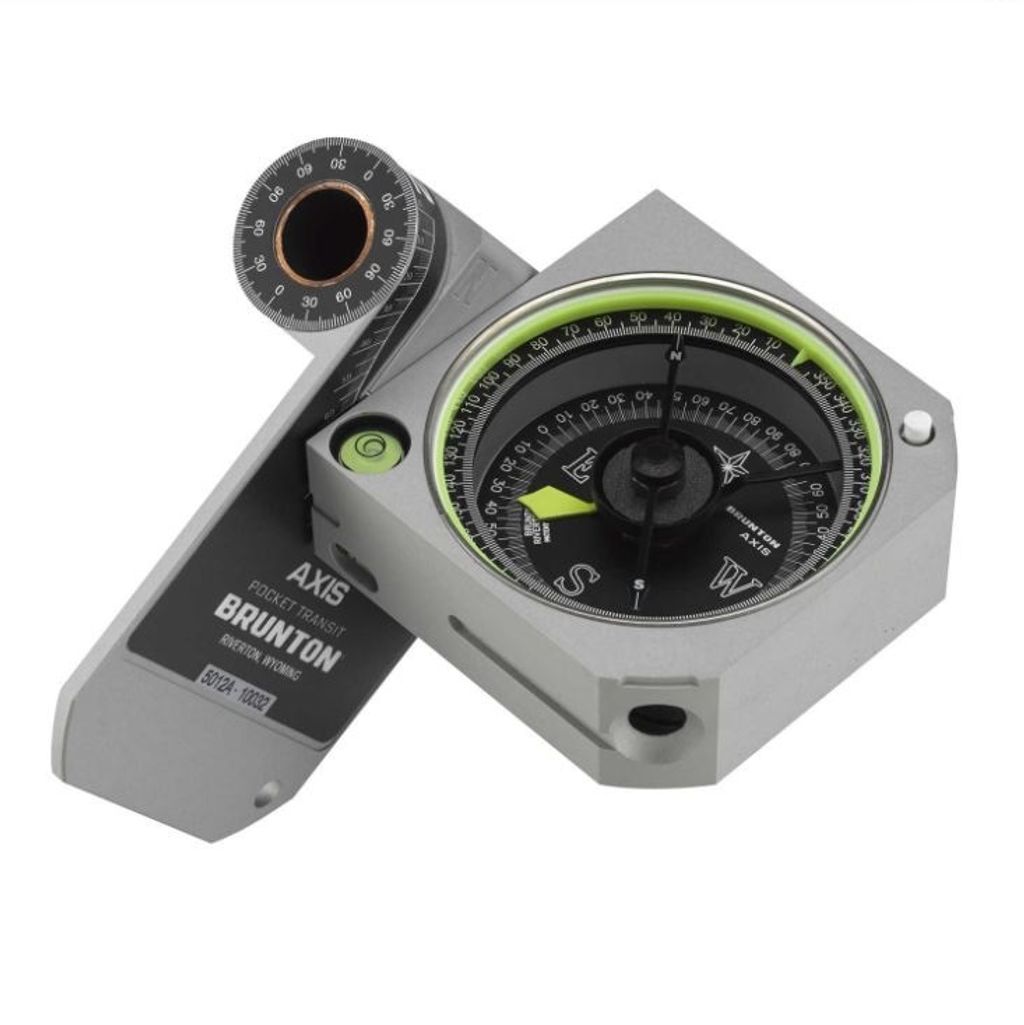 Brunton® AXIS Geological Transit - Quadrant (0-90-0°)
Brunton AXIS Transit, Quadrant (0-90-0°)

Engineered by geologists for geologists! The lid of this transit rotates around the major axis and minor axis of the body to provide a multitude of measuring capabilities. The transit's hollow hinge doubles as a sighting tube and allows for intuitive, accurate measurement of planes, lines, bearings, and vertical angles. Only one measurement configuration is necessary to determine strike and dip, trend and plunge, and bearing and vertical angle. Compass North is oriented parallel to the main hinge axis, making the AXIS the only transit capable of measuring strike and dip simultaneously through contact or sighting methods. The special lid protractor and 360° rotation around the minor axis provide accurate, concurrent trend and plunge measurements on any surface - even overhangs! The AXIS is equipped with a circular level for horizontal leveling and two long levels for ease of leveling from the sides or bottom. Other features include a needle locking mechanism, induction dampening for fast stabilization, and magnetic declination adjustment for east or west declination settings to ±180°. The AXIS is machined from 6061 T6 Aluminum Billet and features O-rings for waterproof protection. One-year manufacturer's warranty. Made in the USA.

Brand: Brunton
MPN: F-5011
UNSPSC: 41114200

Hinge Clinometer (Dip Angle) Accuracy: ±1° with 2° graduations. Inclinometer Accuracy: ±0.5° with 1° graduations. Lid Protractor Accuracy: ±0.5° with 1° graduations. Magnetism: NdFeB rare earth magnet on sapphire jewel suspension. Dimensions (Closed): 3.92" x 2.78" x 1.125". Weight: 12.9 oz.
Customer comments
| Author/Date | Rating | Comment |
| --- | --- | --- |
---