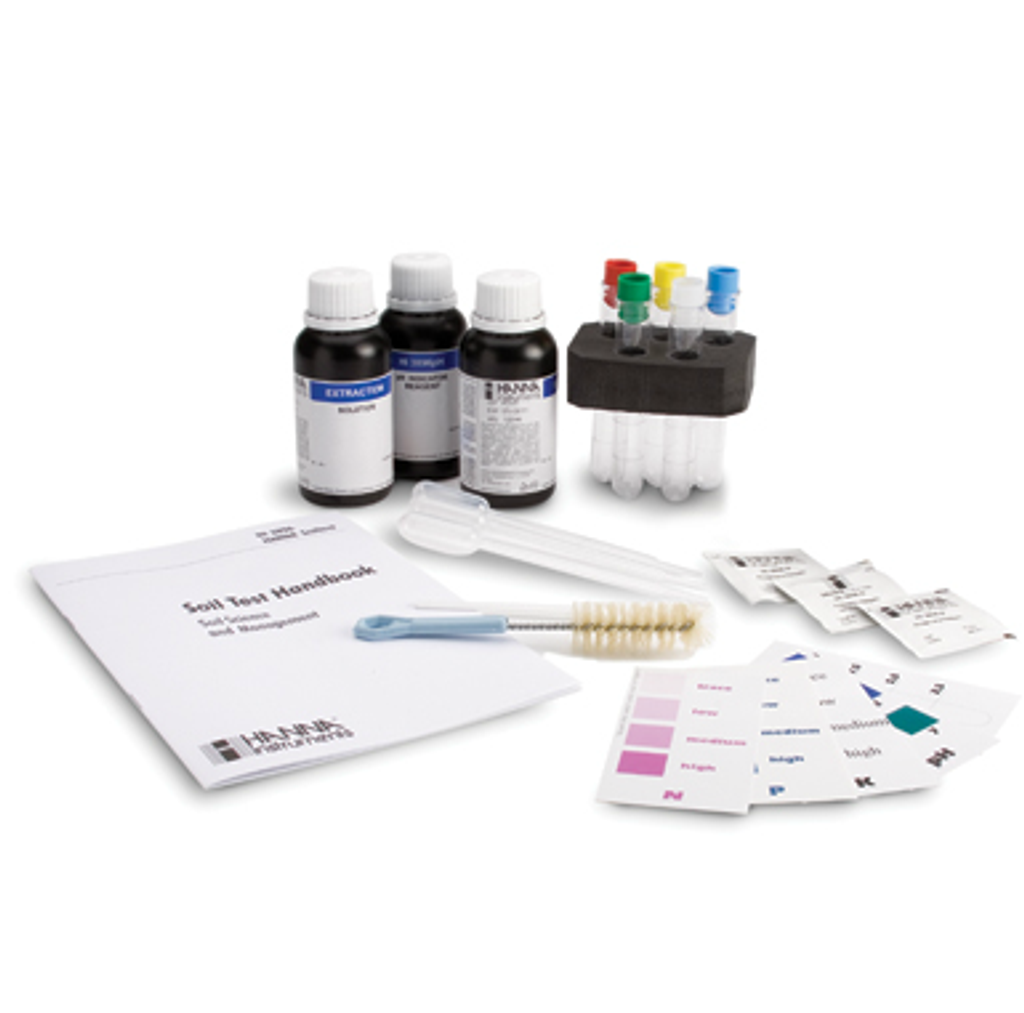 NPK SoilTest
Overview
The soil analysis is very useful, in order to plan fertilization and to know the residues of fertilizers in relation to the crop, tillage and climate. An analysis can highlight shortages and help the understanding of the causes of an abnormal growth. Testing the soil during the crop cycle and comparing the results with the plant growth can be an useful experiment for the next cultivation.
Application
FRUIT & VEGETABLE
Testing the nitrogen and phosphorus level in your soil is important, especially before seeding and replanting. While root vegetables need phosphorus, leafy plants require more Nitrogen. Potassium, on the other hand, helps increase the quality of the crop. With the HANNA Quick Soiltest, you keep these three important elements under control.
FLOWERS & SHRUBS
The right quantity of potassium is the key factor in ensuring beautiful and fragrant flowers. The other elements play an important role too in achieving rapid and harmonious growth.
LAWNS
A lush lawn is the result of care and attention. In addition to tilling and irrigation, the pH and nitrogen levels need regular checks. So, what better than the HANNA Quick Soiltest in the quest for thicker and greener lawns.
FRUIT & DECORATIVE TREES
Trees are the most appealing feature of our gardens. Nitrogen and phosphorus help in speeding up the growth of young plants, encouraging abundance of foliage and strengthening the trunk and the roots. Potassium, on the other hand keeps, the plants in tip top condition by protecting them from diseases
BONSAI & HOUSEPLANTS
Every time a houseplant, but in particular a bonsai is potted, the choice of soil mixture is of prime importance. Having prepared the mixture, the HANNA Quick Soiltest will in a matter of minutes test the level of pH and other elements ensuring a livelier plant.
WHEN TO TEST YOUR SOIL
Your soil should be tested prior to seeding, planting and fertilizing as well as when other soil, manure or compost has been added and not only when the plants do not seem to be in a tip top condition (yellow leaves or stunted growth).
Specifications
| | |
| --- | --- |
| Dimensions | 235 x 176 x 117 mm (9.2 x 6.9 x 4.6") |
| Weight | 710 g (1.6 lb.) |
Consists of
N.P.K reagent 25 pack each
P; pH; N ; K indicator card & scale card
1 Bottle of pH indication reagent
2 bottle of extraction solution
5 pcs of test tube with colour cap (white, red, blue, yellow & green)
1 pair of working grove
Soil garden sampling set (spatula; shovel; jaw)
Brush for test tube & sampling pipette
Soil test handbook
Manual
Customer comments
| Author/Date | Rating | Comment |
| --- | --- | --- |
---