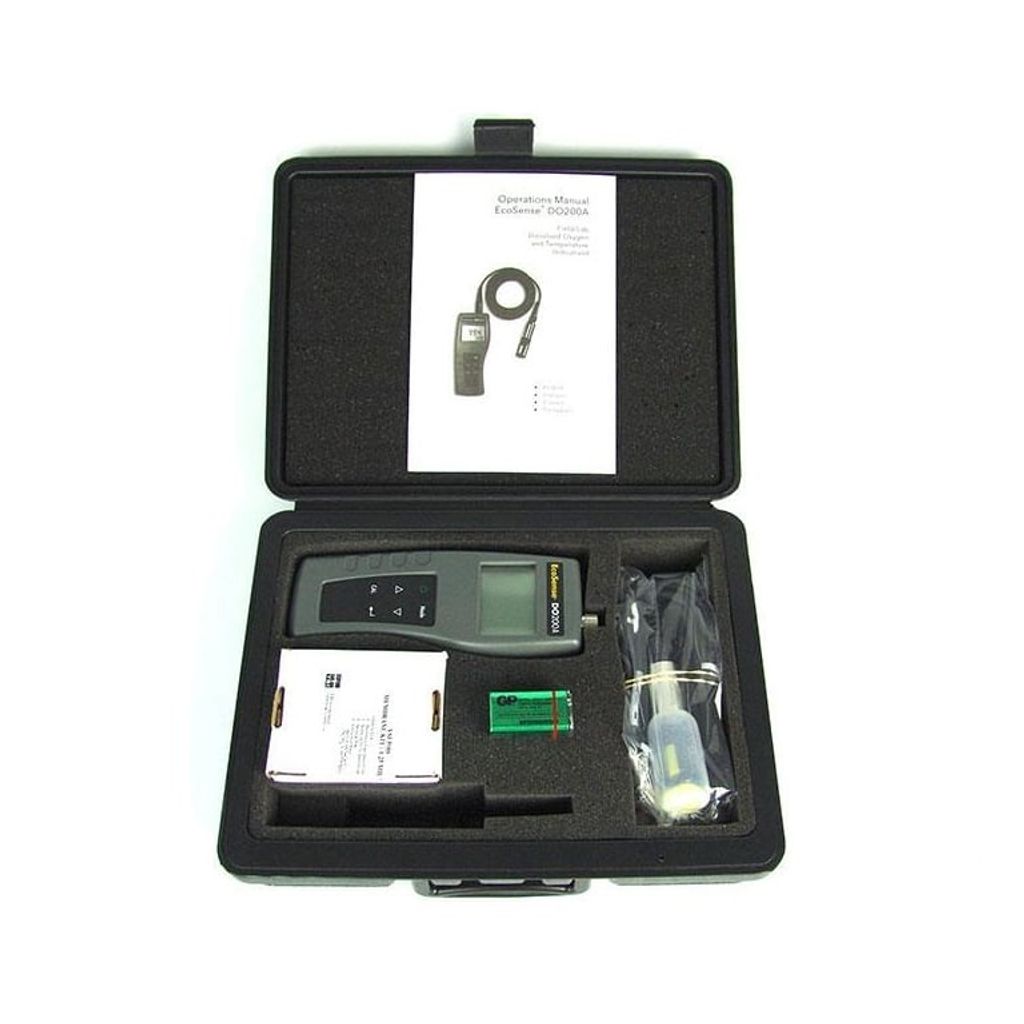 YSI DO200ACC-04 EcoSense DO200A Dissolved Oxygen Meter Kit
*PRICE UPON REQUEST, PLEASE CONTACT US FOR PRICE OR QUOTATION THANK YOU*
YSI DO200A General Specifications
Certifications
IP67 Waterproof
Languages
English
Measurement Range
Dissolved Oxygen % air saturation-0 to 200% Dissolved Oxygen ppm (mg/L)- to 20 mg/L
Memory
50 data set reviewable memory
Multiparameter
Yes
Operating Temperature
0 to 50° C (32 to 122 °F)
Parameters Measured
Dissolved Oxygen, Temperature
Sampling
Yes
Unit of Measure
air saturation, mg/L, %
User Calibratable
Yes
User Replaceable
Yes
Warranty
1-year instrument, probe and sensor cap
Waterproof
IP67 Waterproof

IP67 waterproof rating
Screw-on cap membrane
Low battery indicator with 500 hour battery life
Automatic shutoff after 30 minutes of inactivity
Salinity, pressure and temperature compensation
CE compliance
1-, 4- or 10-meter cable lengths available; BOD probe available
50 data set reviewable memory
The DO200A is a precise tool that measures temperature and dissolved oxygen in % and ppm (mg/L) .

The EcoSense® line of compact, handheld instruments provides the most accurate data in the most affordable format. The instruments feature an easy-to-use interface, one-hand operation, IP67 waterproof case, and low cost of ownership over the life of the product. The DO200A simultaneously measures dissolved oxygen (% air saturation and ppm) and temperature.

This instrument has a waterproof IP67 case when the connector cap is installed. The keys are highly reliable with tactile and audio feedback. This instrument uses one 9V battery. Re- calibration is not required after turning the instrument off and on.

The front of the instrument has a large LCD that displays DO %, ppm, and temperature simultaneously along with user prompts and mode indicators. The unit prompts the user through calibration and measurement procedures.

The model DO200A field and lab probes use a polarographic electrode with convenient screw-on cap membranes. The 200-4 and 200-10 field probes come with a built-in temperature probe for automatic temperature compensation, as well as a stainless steel body for added weight. The self stirring 200-BOD lab probe comes with a power supply and has replaceable electrodes.

Other features include long battery life and high 50/60 Hz AC noise rejection. This instrument is universal and user-friendly for field, industrial, and laboratory applications.
---